Another FASCINATING DREAM INTERVIEW!
Brian Tracy & Mark Thompson
Brian Tracy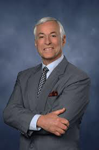 For the last 3 decades Brian Tracy has devoted his life to helping people just like you (business owners) attain personal and business success.
Not just success, but the success key itself. Once you insert this key into your business you will unlock a whole world of profitability missed by many.
Together, with my good friend Mark Thompson, we have put together, what I think you will find, a most compelling guide to your future business success.
I have consulted for more than 1,000 companies and addressed more than 5,000,000 people in 5,000 talks and seminars throughout the US, Canada and 53 other countries worldwide.
Prior to founding my company, Brian Tracy International, I was the Chief Operating Officer of a $265 million dollar development company. I've ranged successful careers in sales and marketing, investments, real estate development and syndication, importation, distribution and management consulting.
I don't tell you all of this to brag, I want you to know that I am in a qualified position to teach you about building a successful business.
———————————————————–

Mark Thompson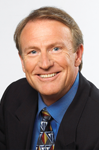 Mark Thompson is a world-renowned executive coach and an expert on innovation and customer engagement. He is an active angel investor in over 20 industries and author of the best-selling business book, Success Built to Last.
Former Chief Communications Officer for Charles Schwab & Co with five million client accounts with over $800 billion in client assets, he also served as Senior Vice President of the Schwab Client Experience.
Later, as Executive Producer of Schwab.com, he created and hosted the Charles Schwab Leadership Series with dozens of great innovators, from Warren Buffett to Steve Jobs.
Mark is a rare speaker who has been a senior corporate executive, entrepreneur, business school coach, board member of a dozen Fortune 500 firms and Forbes called him "a venture investor with the 'Midas' touch."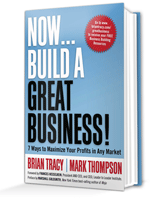 Brian and Mark have teamed together and authored: "Now, Build A Great Business." It will change how you perceive your business, forever!
7 Key Strategies to Catapult Your Business in Any Market!
Two Business Greats Combine Forces to Show You
How to Take Your Business from GOOD to GREAT!
Get your copy from Amazon or your local book store!

Comments