Home Business Directory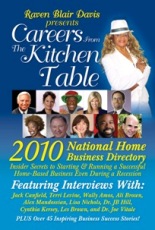 Secure your position today and PROMOTE YOUR BUSINESS FOR A YEAR in the NEW "Careers From The Kitchen Table — 2010 National Home Business Directory."
Here is your opportunity to be featured in a national home based business directory with some of the smartest business individuals on and offline!
This book is going to be HUGE so….don't miss out on this opportunity.  It's going to be the first home business directory that will feature interviews from top experts and so much more.
(Click on the image to view a larger version of the cover)
ONE FULL YEAR OF EXPOSURE!
Triple Exposure– your business listed in three (3) different sections of the book/directory (TWO FULL Pages Exposing YOU! see sample here)
Exposure #1: Your picture-brief bio and story (300-500) words will be featured
You will have the opportunity to share all about your business-product/service-who your perfect client is-talk about challenges as a business owner you faced and how you got past it.
Give 7 tips (I call them ….your recipes of success that will help others be successful in the same type of business )
Exposure #2: You'll also be listed in the Quick and Easy Recipe for Busy Entrepreneurs section ( here you'll give a recipe that takes less than 20 minutes to prepare and also list your contact info and business name)
Exposure #3: You'll also be listed in the Raven Recommends A-Z listing of home based businesses – (your business name, URL and your contact info will be listed here)
The ebook version will be emailed to 50,000 consumers AND home based business enthusiast (people looking to start a home based business) – so if you are a coach, some of those people might contact you to coach them. Wouldn't that be sweet?
The directory will also be available in paperback format and will be listed nationwide as well as internationally in some of the top book stores directories which will be available for purchase online at Amazon or ordered from book stores like Barnes & Noble, Borders, etc.
You'll also receive one paper back copy as a keepsake.
Last… you will be featured in the book along side such greats like:
Jack Canfield
Terry Levine
Wally Amos
Ali Brown
Alex Mandossian
Lisa Nichols
J.B. Hill
Cynthia Kersey
Les Brown
Joe Vitale
I'm glad you asked, it's all about promoting your business in a big way that will last you throughout the year and beyond.  The Careers From The Kitchen Table — 2010 National Home Business Directory is the place for your business to be and it's a huge opportunity to leverage off a well know coaches, consultants, speakers and celebrities!
Positions in the book are really filling up fast and I'm only featuring 10 businesses per category.
When will it be released to the public?
The Careers From The Kitchen Table — 2010 National Home Business Directory will be released soon.
Click here to secure your spot in

The

Careers From The Kitchen Table — 2010 National Home Business Directory
NOW for Only $447!

Once you submit your payment, you will have 14 days to submit your business listing.  This gives you time enough to decide exactly how you want your ad to look.  Price includes one (1) revision.  For a recap of what's included, scroll up to "Triple Exposure".
BONUSES!
PLUS…  As you know we absolutely love to reward action takers so…….if that's you – here are a couple extra bonuses we know you'll enjoy once you secure your position in the book.
Special Bonus #1 – Receive 100 "free" leads of people who are home based business enthusiasts that have requested information on working a business from home.
This means you can promote the ebook version of this unique home business directory to them since you'll have the resale rights.  And remember….. you can sell the book to those on the list for what ever price you choose.

Special Bonus #2 –  Receive a list of  (400) radio shows/stations with producers, host names, phone numbers and email addresses.  We'll also send you a example of what to say when you email them to help get you on as a guest on their show.  Another way for you to promote your business products or services.  Bonuses are good for the first 50 participants…..only!
Special Bonus #3 – The book will come in E-book format and you will have the resale rights to sell it and keep all the money!  With the economy being in the state it is this will be a great product for you to sell —  and….you are in the book-how cool is that?
NOTICE: Resale rights are available for the ebook version only.

For questions or comments click here.