The Host
Raven Blair Davis
Executive Producer & Host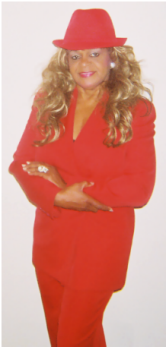 Raven Blair Davis, Award Winning Women Talk Show Host: aka "The Talk Show Maven" is a women who, after many years of searching for her purpose, is fulfilling her lifelong dream. That dream, twenty years in the making, was realized April 23, 2006 when she broadcast her first radio show right from her own kitchen table.
Born and raised in Cleveland, Ohio Raven currently resides in Houston, Texas where she is not only fulfilling her own purpose in life, but she's on a mission to inspire others to do the same, by giving them the opportunity to shine in what they do.
As an award winning talk show host (named Universal 7 Radio Network's "Talk Show Host of the Year" award in 2008), celebrity interviewer, columnist, speaker, author and executive producer of multiple radio shows, both live, on air and on the Internet, Raven has proven that the power of one's voice can pave the road to success.
She's a pro when it comes to interviewing thought leaders, celebrities, power business owners and ordinary people with extraordinary stories. Here are just some of the people Raven has had the pleasure of interviewing on her shows:
Hip-Hop & Business Mogul, Russell Simmons
Featured in the Popular Movie, The Secret, Lisa Nichols
Talk Show Host, Montel Williams
America's #1 Success Coach, Jack Canfield (co-founder of the Chicken Soup books)
Actress, Fran Dresher (You may know her better as "The Nanny")
International Motivational Speaker, Les Brown
Marketing Guru, Alex Mandossian
Cookie Man & Literacy Advocate, Wally Amos
Self-Made Multimillionaire, Ali Brown
Raven's Current Radio Shows
(All of Raven's shows can be found and downloaded on iTunes.)
Careers from the Kitchen Table – Airs live on The Amazing Women of Power every Saturday at 2pm CST, CFKT targets men and women (home based businesses & enthusiasts) who are looking to spend more time at home with their children, perhaps have lost their job or have been forced into early retirement and are looking for ways to create a consistent income all from the comfort of their own home.
Women Power Talk Radio – Named one of the Best Top 100 Business Podcasts by Anita Campbell's Business Trends two years in a row, Women Power was created to help women of all ages ignite the unstoppable power that lies within them.
Mentoring from MLM Divas Live – Secret Home-Based Business Ingredients from MLM Women Millionaires Listeners will discover three secret ingredients needed to cook up network marketing success.
Raven's Celebrity Rave – Raven rolls out the red carpet and celebrates those who give back by spotlighting celebrities all around the world…from ALL walks of life…who are making a difference by paying it forward!
Raven's Books
Kitchen Table Radio Home Study Course – In this course Raven shares the secrets that made her an award winning radio show host and teaches her students step-by-step how to produce and profit from their own radio show.
Broadcast Your Passion to Profits – In this book, Raven shares how you can attract more customers to your business with the power of your voice, all through various broadcasting outlets, including podcasting and radio.
How to Turn Your Telephone into a Cash Cow – With this book Raven shows readers 9 different ways to successfully use the phone (and other related technologies) to either start, grow or enhance your current business.
2010 Careers from the Kitchen Table National Home Business Directory – Insider secrets to starting and running a successful home based business…even in a recession. In this book Raven has brought together more than 45 of the most successful business owners and allowed them to share their personal stories including their biggest challenges and secrets to creating a thriving business. She's also included interviews with some of her top radio show guests in both transcript and audio formats. (We'll add this once the book is finished and obviously this is for areas other than in the book, ie. websites, other books, etc.)
The Talk Show Maven Looking to the Future

One of the things Raven Blair Davis is not, is a fly by night, one hit wonder! She's got BIG plans for the future. Keep your eye out for all the wonderful things she has planned, some of which include:
Careers from The Kitchen Table Reality TV Show – Raven's taking her increasingly popular, Careers from the Kitchen Table Radio show to the streets and teaching men and women all over how to start their own business from home. (coming Fall 2011)
Raven International – Raven's own broadcasting network, where she'll mentor, train and feature other podcasters and talk show hosts. It will also air replays of Raven's favorite hand-picked shows 24/7. Now you'll never miss an episode of your favorite radio show! (coming Fall 2010)
Raven is living proof that you CAN make your dreams a reality with a bit of hard work, dedication and desire. It's up to YOU to make it happen. Every single person, even you, has the ability within you to become UNSTOPPABLE!
———————————————————

Do you want a talk show that is fresh and inspiring? This is the Lady!
Raven has such a unique way of making learning fun and interesting both for her listeners and those participating in her radio show. She is definitely a lady to pay attention to for powerful and practical tools for your career from the kitchen table and beyond. Raven has a great sensitivity as an interviewer. She knows the right questions to ask to get to the heart of a matter and find the wisdom that will benefit her listeners in a powerful way.
www.DouglasVermeeren.com
Creator of THE OPUS www.TheOpusMovie.com
And the upcoming TV SHOW Powerful Possibilities
www.MMPWMovies.com
———————————————————

Over the course of my years as an actress and these last three years as a published writer, I've done interviews for all kinds of media, as well as in-person talks with Tavis Smiley, Larry King and many others.  I absolutely enjoyed my time with Raven Blair Davis.
Raven's questions were thoughtful, insightful and there was even time for laughter.  The interview laid out the silk road and the bumpy road for anyone ready to take the trip of reaching for a dream, no matter what age.  She's the best!!  Thanks, Raven; Best Wishes, Denise Nicholas
To contact Raven, click here or call our Toll-Free Number: 1.800.431.0842