Featured CELEBRITY
Cookie Johnson
Business Woman & Wife of Basketball Great, Magic Johnson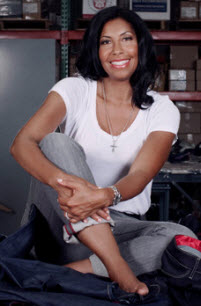 Her own big idea, Cj by Cookie Johnson (premium denim for women with curves) was tested at Nordstrom and caused such a stir – selling out — that it has since expanded nationwide.
A businesswoman at heart, Johnson came out of 'retirement' — from being a full-time mom — to pursue this endeavor. "I wanted to let women know that no matter their shape, they can look and feel good in premium denim," she says. The 'women' she refers to are women who have typically avoided jeans because their curves didn't fit well into the trendy, high-end denim, cut for waifish figures.
"This was my story, too" adds Johnson, who works out daily, eats healthy, but isn't a size two. "I couldn't find jeans to fit my body. It frustrated me to try on every pair of jeans in the store and leave with nothing." She realized that her testimony was that of many women. "I knew there was a hole in the market, it couldn't just be me.
After her marriage to Earvin "Magic" Johnson she made the decision to become a full-time mom to their children. In addition to devoting time to her family, Johnson has always continued her work for the Magic Johnson Foundation where she empowers and educates women as a devoted philanthropist, children's advocate and spokesperson for women's health.
For more information on Cookie, visit: www.cjbycookiejohnson.com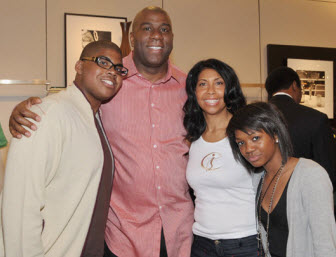 Magic, Cookie and kids
————————————————————————————————
Consuelo Meux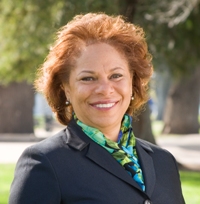 Consuelo Meux, Ph.D., is the founder of Leaders' Lifestyle, a coaching practice supporting professionals who desire to live a highly-creative, peak-performance and goal oriented lifestyle as a leader. Consuelo is a former Peace Corps Volunteer who has traveled and worked in multiple locations in Africa, Europe, Mexico, and most US states. She is the founder and president of two national online associations, is published in The Leadership Challenge Activities Book (2010) New York: John Wiley & Sons, and has self-published a book on doing business online entitled "Yes I CAN Succeed Online: 5 Easy Steps to Your Online Business Success."
Consuelo is known for her research in women's leadership styles and has certifications in executive, creativity, life and cognitive behaviors and health coaching. As a keynote speaker, Consuelo shares on women's issues and leadership, motivation, change and transitions, faith and business, and integrated health and wellness.
Topic:  How to be a Ceiling Breaker in Your Life
Discover what Consuelo has to say about:
The #1 thing you must take in order to break through the ceilings that keep you from your dreams.
What love has to do with breaking through your ceilings to success.
3 simple, practical steps that you can use immediately to move from "stuck to started" in a leadership lifestyle.
For additional information, visit: www.leaderslifestyle.com
————————————————————————————————
Sandra Wyckoff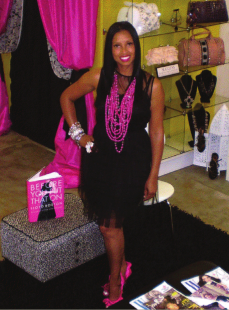 Native of Alabama, Sandra Wyckoff is the epiphany of a southern girl. Raised by her grandparents she is the 2nd oldest of 3 siblings. After a attempt towards a modeling career and graduating from Jacksonville State college, Wyckoff became a personal image consultant to the elite class in Georgia and New York. Pursuing the fashion industry led her to Los Angeles where she learned all facets of boutique operations, as the lead sales associate for Louis Vuitton. With her managerial skills and a host of constituents in the fashion industry doors opened to Klar Boutique January 2008. With a renewed sense of hope after a chain of unfortunate events, Wyckoff continues to meet all of Houston's fashion expectations, if not surpassing them.
KLAR truly embodies a one of a kind approach to affordable boutique shopping.
Klar Boutique offers a highly edited collection of women's contemporary clothing, specialty gift items and accessories. Klar also provides personalized shopping, whether it is in the store or your own home, image consulting, personal style services, and closet organization.
Wyckoff desires to "inspire women one ensemble at a time" through sharing her personal philosophy that fashion does not make a woman, but a woman makes the fashion.
For additional information, visit: www.klar-boutique.com or call: 713.532.5527
Comments